Jansmartingales, Light Blue Martingale Dog Collar Leash Combination Walking Lead, Italian Greyhound, Extra Small, Toy Breed Size, 8", Ilblu041
Item Description
This collar and leash combination walking lead is sized for a smaller Italian greyhound, or similar size toy breed dog. This is a collar and leash combination made as a single unit. The leash is not detachable. It is fully lined with cotton fabric over soft fleece padding. I prefer the cotton fabric next to the dog's skin. It's more comfortable, durable, and static resistant than any other fabric I've tried. The webbing base for this lead is made of 300 lb test polypropylene. The collar section is 8" from ring tip to ring tip, 1" wide, with a 6' leash that is 1/2" wide. This collar and leash combination will fit a small size dog with a neck size about 8-1/2 or 9" to 9-1/2 inches.
My martingale leads were designed primarily to fit sighthounds (who can easily back out of a regular collar and leash), but work equally as well on other breeds of dogs. The collar section slips over your dog's head and the small plastic ring on the leash slides up or down to adjust for a snug fit.
A Word of Caution
All of my leads and collars are fairly wide and well padded. But, be careful of using any type of choke collar on tiny, delicate dogs. If your little guy pulls or struggles in a collar, he could possibly injure his throat. For these types of dogs, a harness or harness vest may be a safer alternative.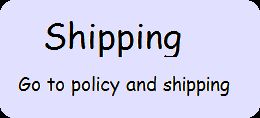 Catalog number for this lead is Ilblu041
Thanks for looking!!
Janet
» Share: