Jansmartingales, Burgundy Walking Lead, Dog Collar and Leash Combination, Whippet, Medium Dog Size wbur117
I will have to be moving in the near future to be closer to the doctors and hospital caring for my husband. This will require me to break down my sewing room and downsize our current home. I will continue to sell the leads that I have made and in stock but will be unable to do any custom orders.
Thanks for your patience.
Janet
Item Description
Being offered is a whippet, medium dog size, martingale walking lead, collar and leash combination. The collar section is 10 ½ inches long from ring tip to ring tip and 1 ½" wide This lead will fit a whippet, small greyhound or any similar size dog with a neck size about 11 inches to 11 1/2 or 12 1/2inches. It is decorated with a cotton print fabric and satin ribbon trims. The base is 650-lb test polypropylene webbing. The leash part is made of 3/4 inch webbing about 6 ft long. It is fully lined with the same cotton fabric over soft fleece padding.
This is made as a single unit. The leash is not detachable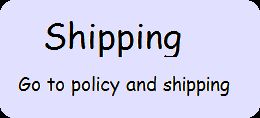 Wbur110
» Share: